14 January 2020
GlobalQuality.space announced as Label Summit Latin America 2020 gold sponsor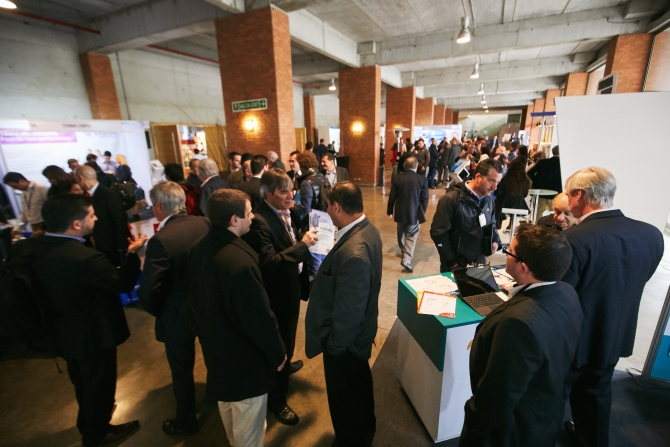 Click on image to download high resolution version
Industry knowledge platform GlobalQuality.space is gold sponsor and keynote speaker for this year's Label Summit Latin America, which returns to Chile. The annual two-day rotating conference and exposition, which takes place at Espacio Riesco Convention Center in Santiago between 10-11 March, is the leading educational event supporting the label and package printing industry in Latin America.
Aimed at senior decision makers working within the industry, the conference will equip delegates with in-depth label and package printing trade knowledge plus strategic insights into how they can help advance the sector in the region. The key focus for day one will be business development in Chile and the wider region, while day two will focus on packaging, design and branding. GlobalQuality.space's business development manager Askold Zimmermann will give the opening keynote presentation on day one. Covering workflow automation and quality control, he will explore new technology, quality control for converters and brand owners, and improved inspections of text, graphics and print.  The new era of printing tool management - software-based and content-based - will also be covered. 

Jessika Bustamante Meisner, Label Summit Latin America 2020 event manager, said: "We are very pleased to welcome GlobalQuality.space as gold sponsor and keynote for this year's event. Chile's highly developed export market makes for a hypercompetitive labels and packaging hub in the Southern Cone, where automation has become a necessity to stay on the forefront. It also means that  technological advancements in quality control, inspection equipment and workflow for profitability are fitting topics for the region's converting community to learn from."    

Zimmermann added: "We are delighted to lend our support to this year's Label Summit Latin America and explore together the opportunities to connect the existing digitalization and new automation processes to the promising Industry 4.0 approach. Latin America is a key focus for us because of the economic growth in the region and great opportunities to become automation-ready." 

An exposition of leading manufacturers will run simultaneously. Confirmed exhibitors include: Epson America, Esko, Gallus, Hagraf, HP, Kocher & Beck USA, Mark Andy, Martin Automatic, Natural Ink, Pantec, PAV-Group, RotoMetrics, UPM Raflatac, and Yupo Corporation America.  
 
Visitor registration is open, with an early bird discount in place until 21 February. The full two-day delegate pass for converters, brand owners and designers costs USD $224 (USD $280 thereafter). Two-day supplier/manufacturer passes cost USD $825. Full event passes include access to the exposition, conference sessions, lunch, networking party and refreshments.  


About GlobalQuality.space
GlobalQuality.space is a knowledge platform and community for Quality topics, and contains software for quality control, quality assurance, video resources, information about existing technologies and much more. Topics include:
Automation topics for prepress and print in 2020
New technology for better processing efficiency for prepress and print
PDF and Source File Standardization
Automation for separation management and printing plates
ERP Connection to existing workflow
Printing Tool Management
Why brand owners are requesting / forcing traceability, and how suppliers can meet those requests / requirements
Improved inspections of text, graphics, barcode and print.
Previously known as Global Business Vision, the new website will be available shortly at www.globalquality.space. 

Label Summit Latin America 2020 is part of the hugely successful Labelexpo Global Series, which marked its 40th anniversary at flagship show, Labelexpo Europe 2019. The Series also includes Labelexpo Americas, held every two years in Chicago, USA and due to return in September 2020. A brand new Labelexpo Mexico is also planned for 2021.

The Label Summit alternates between Chile, Mexico and Colombia. The 16th Label Summit Latin America 2019 took place in Medellín, Colombia, attracting 749 attendees from 31 countries. These included: Brazil, Colombia, Ecuador, Mexico and USA.

Label Summit Latin America 2020 is also supported by regional trade bodies CENEM, CONLATINGRAF and INGRAF.