04 March 2020
Interview with Germán Calvi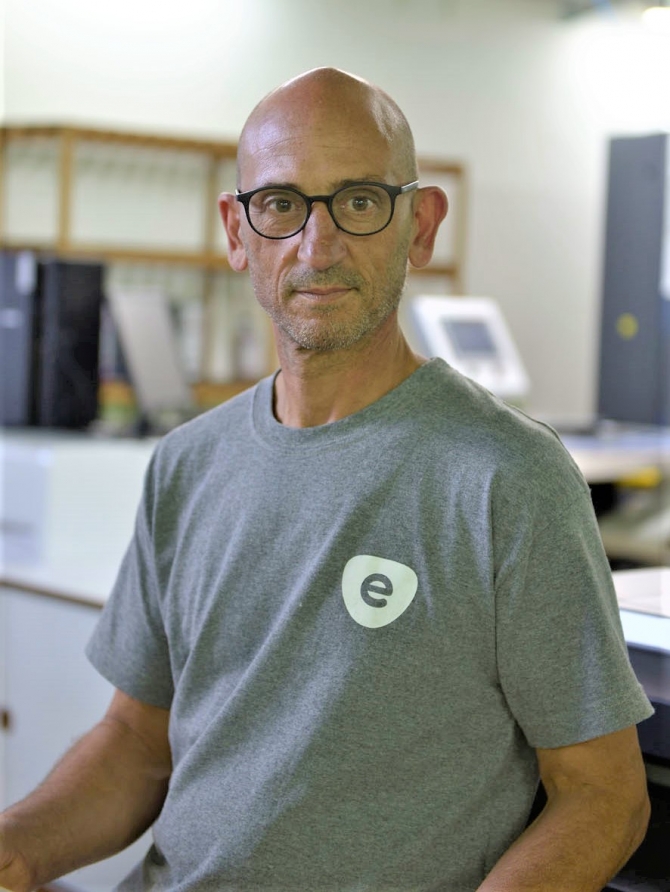 Click on image to download high resolution version
Germán Calvi, Director for converter Etiketten SA, tells us why he's taking part as panelist in our forthcoming Label Summit Latin America 2020. He also shares his thoughts on some of the key trends and challenges facing Chile and the wider Southern Cone region.
WELCOME! CAN YOU TELL US WHY YOU DECIDED TO TAKE PART IN THIS YEAR'S LABEL SUMMIT LATIN AMERICA 2020 IN CHILE?
First and foremost, I am most grateful for the invite and it is an honour to take part in such an important event in our  language and with a perspective that's closer to our own reality.

For us converters, our role is constantly evolving and we are quickly becoming key players in a market that is led by generational consumer change, which is being impacted by a new way of consuming. It's one where packaging plays a fundamental role, since now more than ever before it must transmit a powerful message in order to stand out. In this sense, the reason for our involvement in the Summit is because we see it as of huge importance to be up to speed on new trends, advances in technology, ways of improving our productivity and ways of doing business. Label Summit is an excellent opportunity to assimilate this knowledge.
YOU'RE TAKING PART IN THE SOUTHERN CONE CONVERTER PANEL DISCUSSION AT LABEL SUMMIT LATIN AMERICA 2020. CAN YOU GIVE A SNEAK PREVIEW OF THE KEY POINTS YOU WANT TO MAKE IN THE SESSION?
I have more questions than answers. In the 90's, we converters had an important advisory role for designers and clients. Then came a long period where we lost leadership, and recently, today, with the consolidation of digital technology and the opportunities this offers, our role is being redefined again and we are becoming key players in addressing the demands of packaging and the interaction this has with its new generation of consumers.
TELL US ABOUT YOUR ROLE AT ETIKETTEN SA AND YOUR EXPERIENCE IN THE LABELS INDUSTRY.
I come from a graphic family, I'm the fourth generation of good impressions.

The offset sheet-fed family workshop, due to its geographic location, surrounded by refrigerators and dairy industries, focused on the manufacture of self-adhesive and plastic labels.

When attending an Expographic in our country, Argentina, where machines were on display, we discovered a reel-to-reel Mark Andy that solved all our problems, since it replaced the self-adhesive sheets.
And so, in 1992, began a long career with many anecdotes, friends, suppliers, employees and customers, starting with a central drum Ibirama and a MAC to replace traditional process engraving.
In 2004 I launched my own Etiketten venture: 2 people, a "910", ingenuity, effort and hours of dedication to compete with machines offering greater technology. Always betting on what I developed over the next 15 years, pre-press on site.

It was tough until we reached our 8 full UV color "Mark Andy 2200", in 2009. After a few years we acquired another one, and before we knew it, in 2018 we added a latest generation HP Indigo digital press to our workshop, plus everything that goes with being associated with the company leading global change in the graphic industry. Today we are 30 people strong, passionate about providing the best service to our customers.
Since 2012 we have been working in quality management. Etiketten is certified with ISO 9001: 2015.
My business vision is to provide comprehensive services. We advise our clients and we have been able to position ourselves by solving urgent orders while maintaining our quality standards. That is why we have invested in digital printing technology as a complement to conventional printing systems. From the tools offered by this new technology we have been able to expand our offer of products and services, as well as meet the needs of our customers in a more profitable and efficient way.
IN YOUR OPINION, WHAT ARE THE BIGGEST GROWTH AREAS IN THE LABEL AND PACKAGE PRINTING INDUSTRY IN ARGENTINA AND THE SOUTHERN CONE? WHY?
As everything arrives a little later in Argentina, then it was self-adhesive labels and now it's shrink sleeves that are continuing to replace other printing systems. In many cases it's for ease of application and in others, to improve packaging's presentation. This is because there are ever more new ventures with products offering multiple presentations, types and sizes. In particular, the flexible packaging segment is expected to have the highest growth.
WHAT ARE THE BIGGEST CHALLENGES FACING THE LABEL AND PACKAGE PRINTING INDUSTRY IN CHILE AND THE SOUTHERN CONE IN THE NEXT 5-10 YEARS?
The world has been changing over the last few decades. Technological advances and digitalization are arriving everywhere in one way or another: telecommunications, music, taxis, hotels, photography, medicine, etc. and the graphic industry is no exception. Given this constant evolution, our needs and ways of interacting also made us change as consumers. We need to have ever more options for variety, price, size, quality, and we want it immediately.
All these changes are having a direct impact on converters: short runs on the rise, work with multiple versions, decrease in delivery times, changes and design complexity. Making a label is not just the printing and delivery of the product, but it is something more complex relating to understanding customer needs, and how to make your product stand out from all the other competitors. To achieve this aim, it is necessary to consolidate issues relating to workflow, responding to the client in a timely manner, quality control, systematization of production processes, sustainability, professionalization and commitment of the work team. Technology plays a fundamental role in this process, so in the near future all graphic companies must incorporate digital systems in order to efficiently, competitively and profitably address the needs and challenges that the market requires.
FROM THE CONVERTER'S PERSPECTIVE, CAN YOU SHARE YOUR THOUGHTS ON SOME OF THE KEY TRENDS YOU ARE SEEING IN THE LATIN AMERICAN LABELS MARKET?
The market is changing rapidly. There is ever more variety and renewal of products, so print jobs are increasingly smaller. Undoubtedly, converters of all segments are faced with this reality and the impact it has on our structures. As a consequence of these changes there is a loss of profitability that is inversely proportional to the efforts of people. In addition, more effort is required to meet the increasingly shorter deadlines demanded by customers.
To adapt to these changes you have to be versatile, through a satisfactory combination of analogue and digital printing systems, training and development of human resources, standardization and automation, the use of technology for quality control and the development of products with high added value.

Hear from Germán at the session "Southern Cone converter panel discussion", which takes place on Tuesday 19 March, from 16:30 to 17:15.
Read Germán's biography here.