13 February 2020
Interview with Ignacio Ramos from R&R Impresores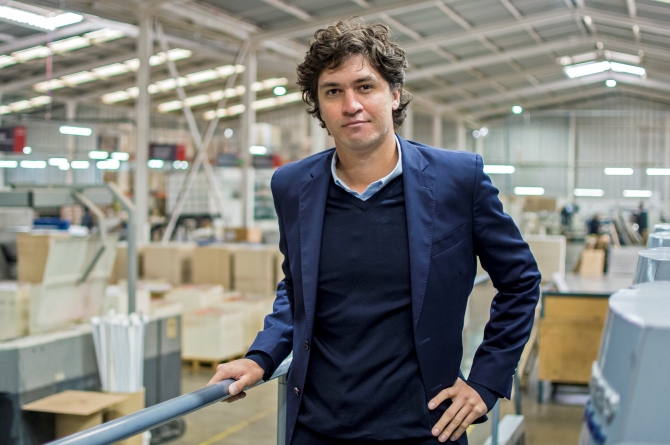 Click on image to download high resolution version
Ignacio Ramos is Commercial Manager for printing firm R&R Impresores, and he took time out to tell us why he's presenting and also taking part in the converter panel discussion at our upcoming Label Summit Latin America 2020. In addition, he sets out some of the trends along with the challenges in Chile and the wider Southern Cone region.
WELCOME! CAN YOU TELL US WHY YOU DECIDED TO TAKE PART IN THIS YEAR'S LABEL SUMMIT LATIN AMERICA 2020 IN CHILE?
I met the Labelexpo team for the first time at Chicago in 2018, it was there that we signed our first label line, after a year of research, to enter this packaging sector (R&R is a commercial printing and folding cardboard packaging company). Since then, I have been amazed by the technology and sophistication of rotary printing, so joining this world-renowned event is an honor for me. The level of knowledge and learning that is delivered here is very valuable for us in Chile and here in the Latin American region, so I also appreciate you coming to these places, because the truth is that we need you.
YOU'RE ALSO PRESENTING ONE OF THE SESSIONS. CAN YOU GIVE US A SNEAK PREVIEW ABOUT THIS, ALONG WITH WHAT YOU WILL BE DISCUSSING IN THE PANEL SESSION AT LABEL SUMMIT LATIN AMERICA 2020?

The migration of print forms that is occurring worldwide in printing presses is fascinating, versatile and very accelerated. Any means of improving your processes, diversifying or simply re-inventing is something that should be done and should be in the plans of each printer right now. You cannot wait any longer! According to a 2018 Napco Research study, 95% of almost 500 survey respondents in the US said that today there is an opportunity to expand their business; of that 95%, 39% are already in the process of investigation and 33% is already doing it. But generally in Latin America, the drive for business expansion is a little behind the more developed countries, which is why we need to talk about it sooner rather than later! In that sense, I am happy to contribute by putting this topic under discussion for the attendees at Label Summit Latin America 2020.
TELL US A BIT ABOUT R&R IMPRESORES.
R&R started exactly 30 years ago. This is a printing company founded by my father, who is the current CEO. We take into account what is business expansion in printing processes and also in diversifying our solutions for our clients, it has been literally our way of continuing in the race. In doing so, we have gone chronologically from commercial rotary printing to commercial printing on sheets. Then about 6 years ago we moved to folding carton packaging, and very recently to labels. All 4 areas are still operating today at R&R, but these last two represent 80% of our annual revenue. In that sense, I think we are a good example of what conversion means and how transcendental it can be for the survival of a printing company.
R&R STARTED AS A COMMERCIAL PRINTER THAT THEN MOVED INTO THE PACKAGING SPACE, AND MORE RECENTLY, LABELS. WHAT WAS THE MOTIVATION BEHIND THESE MOVES?
As mentioned in the last question, there are many reasons. The first is to find an area where a projection exists, where technology continues to advance, along with the demands of the market, and in that way, we found packaging. I think it will be our focus area from now on. Our labels operation has enabled us to diversify our solutions for our folding carton customers. Imagine that under one roof, we can make a label and a giftbox for a wine customer and also the paper to wrap it, plus its commercial printing such as a catalog or sustainability report, all simultaneously. Also worth noting is that we have grown enormously in the giftbox sector for wines and spirits because of our entry into labels (our label solution focuses mainly on the wine and spirits segment).
DO YOU THINK THIS IS SOMETHING WE WILL START SEEING MORE OF IN THE AMERICAS, AND ESPECIALLY THE SOUTHERN CONE?
The truth is that I believe that if we do not, the market and globalization will do it for us. In a market evolving so quickly, if you don't offer what they expect, they will leave you behind. It is not common for a flexible packaging company to migrate towards folding cartons or vice versa, but if that is what the market demands, it is necessary to investigate. Undoubtedly, the more solutions offered to a particular customer under one roof, the more value that company will have in the market. In Chile it is not very common, but we have large companies, and I greatly admire what they have been doing for a long time.
IN YOUR OPINION, WHAT ARE THE KEY LABEL AND PACKAGING TRENDS IN CHILE AND THE WIDER SOUTHERN CONE REGION AT THE MOMENT, AND HOW CAN CONVERTERS TAKE ADVANTAGE OF THESE?
Undoubtedly, the first thing that comes to mind is sustainability, it is a huge wave that comes from more developed countries where you have a great awareness about it. But something very important I've discovered from listening to customers in both packaging and labels is what is called "less is more". In other words, customers want their orders to be very limited and accurate every time. It doesn't matter that several orders are placed in one week, they only ask for what they need at that precise moment. One can think about what goes hand in hand with sustainability and waste saving, and that is correct, but from our point of view it has to do with technology and much more advanced and efficient process flows, which allow demand to be met. That is where I see an opportunity in our region; there is a lot of new technology and software responsible for contributing to a new packaging offer that meets customer demand.

WHAT DO YOU SEE ARE THE BIGGEST CHALLENGES FACING THE LABEL AND PACKAGE PRINTING INDUSTRY IN CHILE, AND MORE WIDELY IN THE SOUTHERN CONE, FOR THE NEXT 5 YEARS?
I am convinced that the industry will be as challenging as in previous years, with changes in technology, new market needs and a smaller amount of time to get a greater amount of work done. But I also believe that this represents a great research opportunity for printers who know how to visualize those opportunities, either in their own market or in a new one they want to explore. The latter can also be seen materialized by M&A (Merger & Acquisition), which in my opinion will be a central issue in the coming years.

Hear from Ignacio at his session "Business Diversification: from Commercial Printing to Label Production" on Tuesday 10 March between 14:30-15:00; and the "Southern Cone Converter Panel Discussion", which also takes place on the Tuesday, from 16:30-17:15.

Read Ignacio's biography here.