11 May 2018
15th Label Summit Latin America exceeds expectations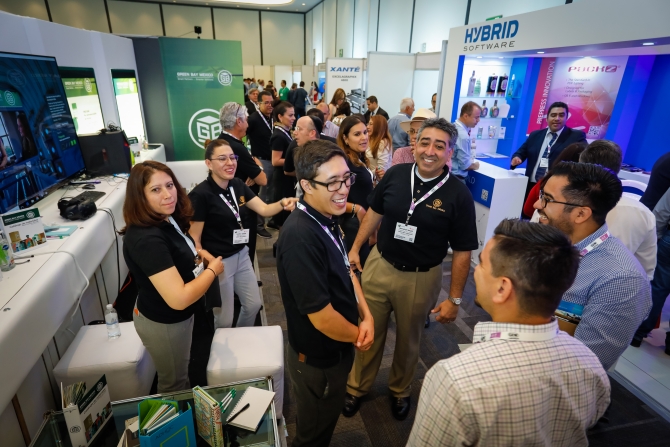 Click on image to download high resolution version
Guadalajara in Mexico hosted 964 of the label and package printing industry's thought leaders and representatives from 12 Latin American countries recently, who came together to share ideas and help shape the future direction of the industry in the region at this year's Label Summit. This made it one of the best attended events of its kind to date.
The two-day event, held over April 24-25 at Expo Guadalajara and only the second time it has been hosted in the city, united key suppliers and top label and package printing industry stakeholders for a combination of expert-led conference sessions with informative panel discussions, technical and practical presentations, and a table-top exposition running for the duration of the event. This offered delegates excellent networking opportunities and the chance to learn about the very latest technology. 
 
Hot conference topics were the growing trends of premiumization (focus on high quality labels and packaging), augmented reality and intelligent labels, which provide increased opportunities for brands to engage with consumers and offer added value, plus the emphasis on consumer experience. The huge growth potential of the Mexican market – the region's biggest – was also discussed in detail.
 
Tasha Ventimiglia, event director for Label Summit Latin America, said:
 
"We are delighted with one of our most successful Label Summits for Latin America, which brought together the best of the region's label and packing printing industry for two inspiring days of learning and showcasing the latest technology from world-class suppliers. Attendee feedback from the 25 countries represented has been tremendous. Mexico has the region's largest label and package printing market, one that is set to grow by 18 percent over the next four years*, so it was fantastic to see such a strong representation from our host country along with the rest of the region." 
 
Opening the summit on day one was a keynote presentation given by Avery Dennison's lead for sales and marketing in Latin America, Isabela Monteiro. Addressing trends in Mexico, the region and worldwide, market forecasts, and how consumers are willing to pay more for functional packaging, she said:
 
"We are living in a more dynamic world with smaller families and single-family homes, so the consumption trend is more individualized, more practical, more functional." 
 
Other day one highlights included a panel discussion on attracting skilled labor and retaining key employees, with Heriberto Sánchez from Acoban and Etifilms, Keren Becerra from Etiquetas Lobo Impresores and Label Pack, and Samuel Rodriguez de Landa from La Escuela Nacional de Artes leading the debate. Emotional well-being and talent development were acknowledged as key to industry success, as was meeting the needs of younger entrants to the market who want a more flexible working life. This is a challenge for converters, where production jobs see a turnover of 3 percent.
 
Another popular session was led by Ideeo on diversification and moving from commercial printing to packaging. CEO of the Mexico City-based company Juan Sebastián Estrada described how it had stopped being a printer a long time ago when they realized they had to sell concepts instead. He said: 
 
"The package is a means of communication. I'm not selling a label or a package. I'm selling an experience." 
 
Day one ended with a panel discussion led by Ricardo Stone of Etiquetas e Impresiones de Mexico, Ángel Calderón of Impredimex, Gerardo Gonzalez of Etiprint and Jorge Martínez of Groupo Etimex. They agreed that since much of the Mexican market is price-focused, it is important to find a niche and excel at it. Digital printing was also flagged as a hot topic, as converters are increasingly adopting digital strategies. 
 
Day two of the conference began with Jos Kabouw of Grafisk Maskinfabrik and Joaquim Correia of Arconvert leading a session on high-end label decoration. Mr Kabouw discussed augmented reality, foils and embossing as ways for brands to stand out on a shelf, while Mr Correia looked at premium material options. Echoing the session on day one, he said: 
 
"Today's consumer doesn't want status from products they purchase, they want an experience." 
 
The summit ended with a lively panel discussion on branding, and in particular enhancement, personalization and private label versus premium brands. High-profile consumer brands were well represented on the panel, with Mónica Medina of Nestlé, Sergio Bojalil of The Hershey Company, Humberto Ojeda Lozano of Tequila Casa San Matías, alongside Manuel Antonio Melendrez of Norjal. The recurrent theme of consumer experience was discussed, while Mr Lozano explained how his company works closely with its label printer to choose the best papers and bright finishes for their tequila bottles. He said there are greater opportunities for brand marketers and designers to interact with their label suppliers, who in turn have a responsibility to educate their customers on the latest trends.
 
The accompanying table-top exposition featured 87 companies, with many leading suppliers represented, including Acpo, Armor, Avery Dennison, Bobst, Durst, Dupont, Epson – who also launched their SurePress for the Latin American market - Esko, FUJIFILM, Green Bay Mexico, Mark Andy, Sun Chemical and Tesa Tape. 

Ms Ventimiglia added:

"This is our 15th consecutive Label Summit in Latin America. We began the summits to grow our circulation in key emerging markets, educate local label converters on our industry, and complement our larger Labelexpo portfolio. We never imagined that 15 years later our summits would become such vital, unmissable events for the entire Latin American label industry. We look forward to building on this at next year's summit in Colombia."
 
*Source: Smithers Pira. 
Quotes from exhibitors and speakers:
 
Isabela Monteiro, Avery Dennison: "We believe that customers are looking for innovation and new technologies in order to be able to differentiate and create more value. Label Summit is the event where we display our new products and solutions, put them to action and exchange knowledge with our customers. It has been a very positive event for Avery Dennison and we look forward to joining next year's event in Colombia."  
Alexis L Cruz, Yupo Corporation America: "They have once again managed to produce a fascinating show, the volume and quality of the attendees were far beyond our expectations. Yupo organization was pleased to participate and will continue to do so in future events."                                                                                 
Joaquim Correia, Arconvert: "It was our pleasure to participate [in a] very well organized and dynamic event, an excellent opportunity to share and debate ideas, concepts, market trends, through the different perspectives of the entire value chain of the label sector… A very important event that decisively supports the development of the label industry in the Latin American region."
 
Monica Medina, Nestle: "It was such a great experience being part of the Label Summit … a good mix of new technologies and the strategy behind it."
 
Mike Jelinsky, Sales Engineer, Martin Automatic: "This has been an awesome show. The best show in Mexico, and I've been to a lot. The amount of people, the quality of people and the venue, all put it over the top."
 
Jim H, UEI Group: "The show was dynamite. We've met a lot of new contacts, and it's been steady throughout."
 
Randy Ward, International Sales Manager, Acpo: "As always, this show is fantastic. It's a laid back personal type of experience with customers and you can spend a lot of quality time with customers and potential customers. I've never been to a bad Label Summit and I've been to just about all of them."
 
Jackie Ramos, Sales Manager Latin America, Rotometrics: "This one blew out all the other summits. The quality of people, the people were engaged and interested in our products. We saw a lot of existing customers, but we met a lot of new potential customers."
Countries represented at Label Summit Latin America 2018 include Argentina, Brazil, Chile, Colombia, Costa Rica, Ecuador, Guatemala, Mexico, Paraguay, Peru, Puerto Rico and Venezuela.
 
Label Summit Latin America was last hosted in Guadalajara in 2012, and will return to Medellín, Colombia in 2019. 
            
Key statistics about the Mexican label and package printing market:
The population of Mexico is set to increase by 4.7 percent from 2017-2022, reaching 129.35m people. 
Per capita GDP is forecast to grow by 24 percent in the same period.
In 2018, the label market in Mexico is worth 452 million dollars. This is forecast to grow by 2022 to 536.1 million dollars – an increase of 18.6 percent**
Within the above figure, most growth is forecast in shrink sleeves (34.5 percent); in-mold labels (21.3 percent) and self-adhesive labels (20 percent).**
 
**Source: Smithers Pira.