23 March 2017
Speakers unveiled for Label Summit Latin America 2017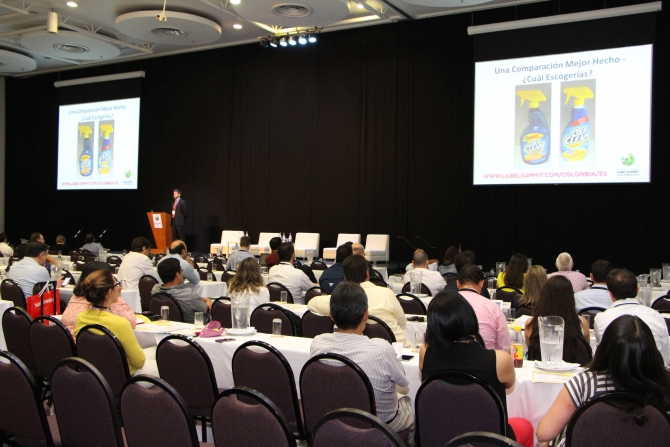 Click on image to download high resolution version
Details of the speakers and conference topics have been announced for Label Summit Latin America 2017. Being held this May at Santiago's Espacio Riesco in Chile, the Summit will tackle key issues for the Chilean label and package printing field including industry trends, new technologies, market challenges and specific aspects of the wine labeling trade.
The opening keynote presentation will be delivered by Ronaldo Mello and Ralph Olthoff of Avery Dennison Corporation. Titled 'the changing global and regional pressure-sensitive label industry' they will give delegates an insight into growth opportunities, macroecomonic trends impacting on the sector and an overview of the wine and spirit market. For over 25 years, Mello has worked in the packaging industry and was appointed vice president and general manager of Avery Dennison Materials Group, Latin America in 2009. Olthoff has over 20 years of sector experience and is global director for the wine, spirits and craft beer segment of Avery Dennison's materials group.
Other sessions on the opening day include a detailed run down of local market trends for Chile and the Southern Cone. Michel Sabelle, vice president of Asimpres and partner at Ártica Impresores will give a sector breakdown on labels, shrink sleeves, flexibles and folded cartons and evaluate wider market conditions and end user trends. The Southern Cone converter panel discussion includes EADEC Chile's Javier Ibero Arimany and Uruguay's Jorge Garrido Garino from Garino Hnos who will give an inside look into their businesses by discussing consolidation in the Latin American market, new areas to invest in with evolving technology and how to overcome competitors. A snap shot of the latest niche technologies and applications such as water-wash polymer platemaking and expanded gamut printing will round off day one's sessions with presentations including Codimag, Leftech and JM Heaford. 
Day two will focus on the various challenges facing today's label converters such as attracting and retaining employees and environmental credentials. Accraply's Sean Murphy will talk about shrink sleeves with a look at the production process and what to consider for performance and quality to ensure the best application. The morning's sessions will end with Iban Cid from GERMARK who will be revealing how to encourage consumer interaction and spending through 'smart' products. Looking at the usage of augmented reality and RFID applications for brand protection and theft prevention, Cid will also share lessons learned with client case studies from Festina, Jaguar and Lotus.
The afternoon's sessions will focus solely on wine label design and embellishment starting with Jos Kabouw of Grafisk Maskinfabrik delving into how to bring more sophisticated wine label decoration to the product. Tridimage's Hernán Braberman will examine the latest styles in wine and spirit packaging design strategies, while Jaime Dagnino of AnyLabel Systems and Colorama's Carlos Scheuch will commentate on the role of converters in wine labeling and how they are working in closer partnership with vineyards. The conference will close with a wine tasting workshop led by Andreu Gombau and Edmund Ayres from UPM Raflatac. Participants will benefit from knowledge sharing to improve and advance their business and have the opportunity to sample local wine and hear about how the wine is blended, bottled and labeled. 
The conference runs alongside a table-top exhibition and visitors will be able to network and source new suppliers with over 70 leading manufacturers and service providers. From digital and conventional printing presses to inks and coatings and prepress and platemaking technology, every aspect of the label printing sector is represented with confirmed exhibitors including: Antalis, Armor, Avery Dennison, Bobst, Dow Corning, Epson, Esko, Etirama, Flint Group, Gallus, HP, Mark Andy, Nilpeter, Oji Papeis, Omet, Ritrama, SPG Prints, Sun Chemical, UPM Raflatac and Xeikon. In addition, delegates will also enjoy an exclusive networking session with a drinks reception at the Hip Hotel on the first evening.
Tasha Ventimiglia, Americas event director comments: "The Label Summits are all about helping to achieve competitive advantage in an overcrowded market. Label and package printing is always evolving and tech change is a big, constant issue for the industry, so the Summits are focused on sharing the tools and knowhow for printers to create a more effective business strategy and add value for the customer. The events are a great opportunity to listen to and liaise with some of the industry's best visionaries and thinkers and gain practical advice for the challenges businesses face today and beyond."
Early bird registration rates are: full two day delegate pass: USD $195 and one day delegate passes: USD $169. Discounted prices are available until 28 April and includes lunch and refreshments. On-site registrations also are welcome throughout the event and full registration can be made online at
http://www.labelsummit.com/chile
.