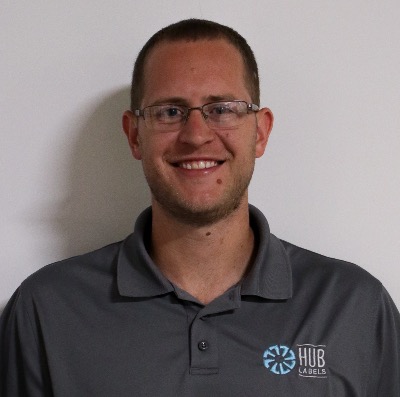 Jesse Hood
Director of Quality and Continuous Improvement
Jesse Hood is the Director of Quality & Continuous Improvement at Hub Labels, in Hagerstown, Maryland. With an eye towards lean manufacturing, Jesse led the charge in finding new and innovative ways to reshape how business is conducted at Hub Labels. This included a project with a focused effort on improving color/print consistency, allowing the company to become a Master G7 Certified Facility. Most recently, he oversaw the company initiative to achieve MOSH Sharp Certification, making Hub Labels only the fourth company in the state of Maryland to achieve this honor.  
In addition to the Quality and Continuous Improvement role, Jesse is the Sustainability Committee Coordinator. In the past two years, the Sustainability Committee has achieved SGP Certification, 100 percent landfill free status, and won the 2020 FTA Sustainability Excellence Award.
Jesse received his Bachelors of Science Degree in Industrial Management Systems Engineering from West Virginia University (Go Mountaineers!), as well as his MBA from Shippensburg University.