13 October 2020
Successful first Virtual Label Summit concludes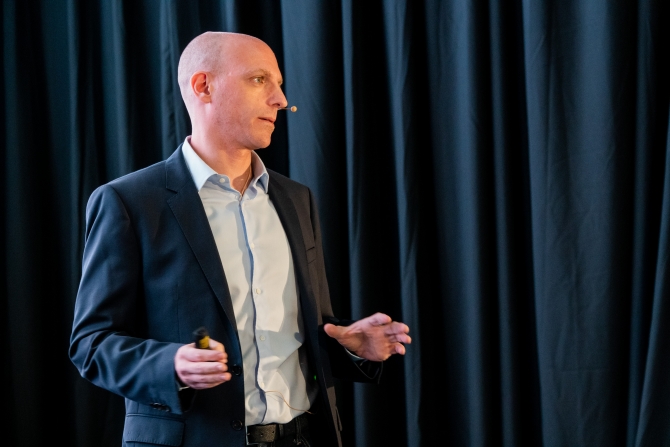 Click on image to download high resolution version
Labelexpo's first Virtual Label Summit, which took place recently, attracted 333 attendees from Europe, the US, Latin America and Asia. The event also drew in 30 high-profile guest speakers from across the global label and package printing industry.
Taking place online between 28 September and 2 October 2020, with sessions broadcast early in US Central Time to maximize participation from around the world, the five-day event was designed around five key themes against the backdrop of the global COVID-19 pandemic: the global landscape; converter business markets and opportunities; futureproofing your business; sales and marketing opportunities; and branding and design. 

Highlights from day one, which was also powered by the Label Academy, included a journey inside two pressrooms that have successfully adapted their operations. This extremely well-attended session started with Christie Wong Barrett, CEO, and Thomas Barrett, president, both of MacArthur Corporation in the US, while Anuj Bhargava, founder, Kumar Labels, continued the journey at his pressroom in India. An equally popular editorial panel led by Labels & Labeling magazine's global team later shared its collective insight into label market trends around the world. Digital printing, sustainability, converters seeking creative ways to pivot, automation and diversification were all highlighted as the top trends to watch.

Day two highlights included an informative, extremely well-attended session led by Chris Ellison, managing director, OPM (Labels and Packaging) and president of FINAT, who set out how the UK-based label converter moved into the lucrative flexible packaging market. He also provided valuable tips and advice for anyone looking to similarly diversify, which was also the theme of a lively and popular global converter CEO panel discussion on post COVID-19 recovery. Moderated by TLMI president Linnea Keen, panelists included: Charlie MacLean, president and CEO, ASL Print FX (Canada); Mark Glendenning, CEO, Inland (USA); Isidore Leiser, CEO, Stratus Packaging (France); Sachen Gudka, CEO, Skanem Interlabels (Kenya); and David Richards, managing director, Amberley Labels (UK). 

Day three highlights included two well-attended sessions, kicking off with a presentation led by Claudia St. John, president, Affinity HR, who spoke on leading a team through a season of crisis, providing tips on how to manage stress in these COVID-19 times. Labelexpo's strategic director, Andy Thomas-Emans later provided a popular technology update, highlighting automation and AI, diversification into flexible packaging, hybrid printing and sustainability as key trends to watch. All of these will be much in evidence at Labelexpo Americas 2021, which is set to include a feature showcasing hybrid printing and finishing. Rounding off the day was a converter panel that discussed alternatives to landfill. Sponsored and produced by TLMI, and moderated by its vice president of sustainability, Rosalyn  Bandy, panelists were: John Dultz, process improvement manager, CCL; Mark Howard, vice president, graphic services, Syracuse Label and Surround Printing; Brian Hurst, vice president, operations, Yerecic Label; John Crosby, vice president, operations, Grand Rapids Label; and Jesse Hood, director of quality and continuous improvement, Hub Labels.   

Day four highlights included a popular session given by Vicki Strull, principal, Vicki Strull Design, who presented ways of designing innovative and impactful products. This theme was continued in a later presentation on successful omnichannel marketing. Moderated by Ken Theriot, executive director, TheRiot Agency, speakers were Jesse Freitas, marketing director, StickerGiant, and Adam Peek, business development and channel partner manager, Fortis Solutions Group. 

Highlights from the final day of the conference included a session taking attendees through a disruptive package design for Procter & Gamble – from research and development, to commercialization, to launch. Moderated by David Lukshus, president, Cog LLC, speakers were: Ken McGuire, research fellow, Procter & Gamble; Cedric D'Souza, chief technology officer, AeroFlexx; and Ben Greengrass, creative director, ThoughtMatter. 

Networking breaks in between sessions also gave attendees the opportunity to interact with industry suppliers, including: Avery Dennison, Baldwin Vision Systems/AMS Spectral UV, BOBST, Brotech, Domino, Flint Group Narrow Web, GEW, HP, Hybrid Software, Label Academy, MacTac, MPS, OMET, Pantec, UPM Raflatac, and Xeikon.

Lisa Milburn, managing director for Labelexpo Global Series, said: "We are extremely pleased with the response to our first Virtual Label Summit. Our objective was to bring the global industry together under a single online platform, in order to learn, inspire and share insight and knowledge, against the backdrop of the COVID-19 pandemic. The event didn't disappoint, and proved a fantastic opportunity for speakers, suppliers and printers to connect. My thanks go to all the presenters, moderators and sponsors for taking part and for making it such a success."

Anuj Bhargava was among the speakers who shared this sentiment. He said: "The online event, though not the same as the live show, got us connected back with the global label industry. The event was very well curated, brilliantly showcased and flawlessly (technically) executed. Congratulations to your technical team, and to all of you for putting in all the hard work to keep the fraternity connected." 

Thomas Barrett agreed: "Labelexpo is such an important event for the North American label market and the Virtual Label Summit did a great job filling the gap created by the COVID postponement of the physical event.  Like Labelexpo, it was a great opportunity to learn and connect with suppliers and fellow converters.  The program covered a wide variety of relevant topics and, in a tight knit industry like ours, it was fantastic to see colleagues and friends when we can't do so in person.  Thanks for making lemonade out of 2020's lemons!"

Sachen Gudka added: "I found the Virtual Label Summit to be excellent, and full of valuable insights on many of the current issues facing converters in the post-COVID environment. Challenging old assumptions and finding new ways of working were some of the takeaways from this timely summit." 

Hernán Braberman (pictured), partner and executive design director, Tridimage, and speaker for the final conference session on designing packaging for different age groups, agreed: "The first Virtual Label Summit showed the world that it is taking the innovative lead again! Converters, brand owners and designers could reflect on the future of the label and packaging industry after COVID-19."

Claudia St. John also said: "The fact that you were willing to dedicate time and valuable attention to providing resources to participants to help them manage the emotional challenges of working during a pandemic made me excited and grateful to be a part of this year's conference." 

Milburn added: "The appetite for learning doesn't stop with this event however, which is why we are making all the material from the summit available to attendees for the next three months. Additionally, anyone who was unable to attend can still buy a pass to view the content. We are also exploring the potential for hosting further online events outside of Labelexpo shows in the coming months. Of course, these cannot replace the live show experience that's so vital for keeping our dynamic industry moving forwards, but rather, will complement our future live shows. We look forward to meeting exhibitors, partners, colleagues and attendees once again at Labelexpo shows in Chicago, Brussels and Shanghai in 2021". 

The full program and speaker details are available on the Virtual Label Summit website, where all content is available to purchase for the next three months. 
The Virtual Label Summit is part of the hugely successful Labelexpo Global Series, which marked its 40th anniversary at flagship show, Labelexpo Europe 2019. The Series also includes: Shenzhen's inaugural Labelexpo South China 2020, due to take place between 8-10 December; and Labelexpo Americas 2021.