29 May 2019
Third Colombian Label Summit most successful to date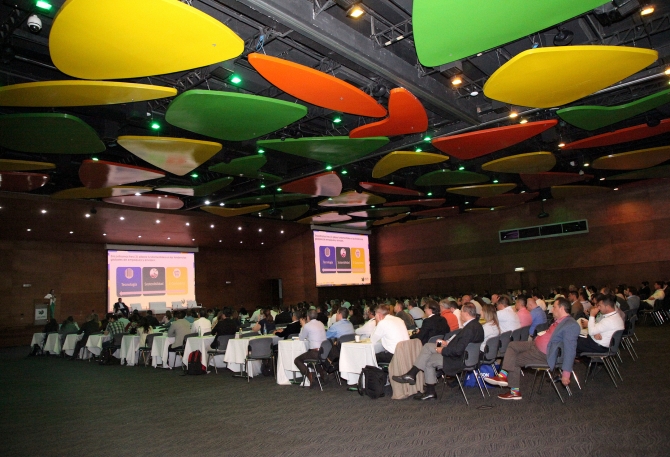 Click on image to download high resolution version
Medellín, Colombia, was host to Label Summit Latin America's best attended, most successful event in the country to date from May 14-15. It attracted 749 of the label and package printing industry's thought leaders and representatives who came together to share ideas and help shape its future direction in the region.
Part of Labelexpo Global Series, the extremely popular two-day event was aimed at equipping senior label converters in the region with insight into the industry. Held at Plaza Mayor, Label Summit Latin America 2019 was held for only the second time in the city (previously in 2014), and the third time in Colombia. Attendee numbers were the highest in the country to date, with key suppliers and top label and package printing industry stakeholder delegates from 31 countries attending 15 expert-led sessions. Chaired by Labels & Labeling magazine editor James Quirk, these featured informative panel discussions and in-depth expert-led technical and practical presentations. An accompanying table-top exposition running over the two days also offered delegates the opportunity to network and gain an exclusive preview of the very latest technology.   
Jessika Bustamante Meisner, Label Summit Latin America 2019 event manager, said: "We are delighted with our most successful Label Summit in Colombia to date. When we introduced Medellín, Colombia, to the Label Summit Latin America sequence back in 2014, it closed with a record-breaking attendance level far exceeding expectations.
"For this year's edition to set a new record yet again is testament to the incredible growth seen in the country, which has one of the region's largest economies. Its buoyant market is bolstering Latin America's fastest label and packaging expansion in the last decade, so it was fantastic to see such a strong representation from our host country along with the rest of the region at Label Summit Latin America 2019."   
Designed with a strong business and strategy theme, the focus for day one of the conference was on legislation and trends in Colombia as well as the wider region, and design and branding. Day two focused on business markets and new opportunities. 
Opening the summit on day one was an extremely well-received presentation on recent changes in Colombian legislation and the impact on the printing industry, given by Alexander Hernández Muñoz, head of product development, ICIPC. This was followed up by a session led by Cesar Augusto Bernal Gonzalez, founder and managing director, Everest Printed Solutions. The keynote presentation was given by Diddier Solano, area sales director for gold sponsor UPM Raflatac, who touched on how a label can build a brand for the future. 
Other day one highlights included the most popular session of the summit overall, led by Guillermo Dufranc, graphic project manager, Tridimage. His presentation "Design Playlist for Baby Boomers, Gen X, Millennials and Gen Z" examined the end of "one size fits all" when it comes to meeting consumer needs through tailored product branding.   
Building on this, the afternoon's panel discussion focused on creating products with stand-out presence. A strong line-up of regional branding experts featured Luis Arevalo, design and packaging director Latin America, Colgate-Palmolive; Catalina Botero J., brand development director, Grupo Familia; Luisa Garcia, brand manager, Compañía Nacional de Chocolates (Grupo Nutresa); and Ader Cárdenas, design manager, Quala Nova.   
Day two of the conference began with Juan Sebastián Estrada Hernández, chief executive officer, Ideeo 4.0, leading a session on business diversification into label and packaging production from other industries. This was followed by a session on mergers and acquisitions led by Fernando Gabel, executive vice president and general manager, Latam, All4Labels Group.
Other highlights from day two included a session led by Tara Halpin, owner and CEO, Steinhauser, who spoke on creating a positive company culture to grow your business.
A lively panel discussion on the future of print, including intelligent products and how the industry needs to respond to consumer expectations, rounded off the summit. High-profile brands were well represented, with panelists featuring José Gutierrez, MCA north country manager, HP; day one speaker Guillermo Dufranc, Juan Pablo Patino Arevalo, Andean regional manager, Nilpeter; and Juana Isabel Mesa, partner and strategic director, Grupo imasD.   
Bustamante Meisner added: "The conference program really resonated with attendees, thanks to its strategic focus and having an equally strong representation of brand owners placed alongside printers in the sessions. This gave attendees uniquely valuable insight into the future of label and package printing and how their businesses need to compete on a global level."   
Iban Cid, managing director, Germark, and who spoke on day one about targeting different consumer groups with distinctive packaging, echoed this response: "Label Summit Latin America 2019 was the best Summit I have attended. The conference sessions were of the highest level, especially the brand panel and the presentations which covered packaging trends. They were very interesting and useful for label converters like us."    
Diddier Solano, area sales director, Latin America, UPM Raflatac, added: "I enjoyed delivering the keynote address during the conference program, and teaching the attendees about the latest innovations and design trends in the pressure sensitive labeling industry."   
The accompanying table-top exposition featured 79 companies, with many leading suppliers represented, including UPM Raflatac, AB Graphic, Dupont, Elkem Silicones, Epson America, Esko Graphics do Brasil, Fujifilm North America Corporation, Grafisoft, HP, Huella Digital, K Laser, Mark Andy, Natural Ink, Nilpeter, Novaflex Representaciones, Pantec, RotoMetrics and Xeikon.   
Lies De Laet, events manager, Flint Group summed up the event: "The Label Summit Latin America is a unique event where we can meet high profile and professional flexo customers from Latin America. The atmosphere during the show was unique, which allows us to connect with different customers with different approaches and solutions, making it a very productive show. The information that was shared during the presentations gave us a new vision that will be very useful for the future."   
Label Summit Latin America returns to Santiago, Chile, in 2020. 
For more Label Summit Latin America 2019 feedback,
click here
.
For images from this year's event, visit the photo gallery
here
.   

The 16th Label Summit Latin America 2019 saw an increase of countries represented on the 2018 event, held in Guadalajara, Mexico. The top countries represented this year were Colombia, followed by USA, Mexico, Brazil and Ecuador.

Label Summit Latin America rotates between Mexico, Colombia and Chile, and was last hosted in Medellín in 2014. In 2016 it was hosted in Cartagena. It returns to Santiago, Chile in 2020.
Label Summit Latin America is part of the hugely successful Labelexpo Global Series. This also includes its largest event, Labelexpo Europe 2019, which this year celebrates its 40th anniversary from September 24-27. Visit
www.labelexpo-europe.com
for more information.